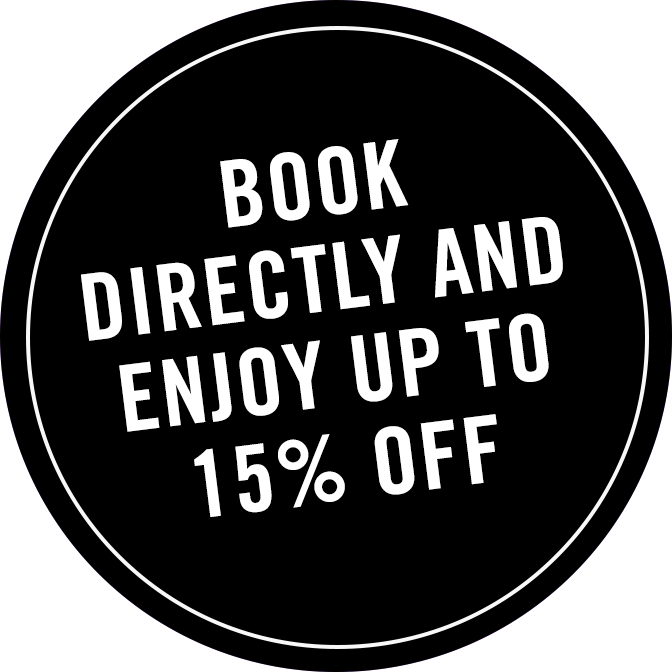 A HIGH-RISE WITH STYLE
Hotel Daniel has a long history in Graz. You might even say it has become a landmark in the center of Graz. The way it seems to reign over Europaplatz, surveying the hustle and bustle down below.
Hotel Daniel's location near Graz Central Station is one of its major advantages. Life is waiting for you, just outside the door. And of course the hotel is as easy to reach as it gets – with access essentially to the rest of the world, and of course to Graz's old town. The centre is a short journey by tram or on one of our bicycles for hire or electric Vespas – but we'll get to those later. Or enjoy a leisurely 15 minute walk along Annenstrasse.
RIGHT IN THE MIDDLE OF GRAZ, RIGHT AWAY
Once you've arrived at the banks of the Mur or at Hauptplatz, the main square, you're surrounded by the sites of Styria's capital. The Kunsthaus art museum, the Styrian Armoury, the Schlossberg and everything a tourist's heart desires. The city centre has a lot to offer: for culture-seekers, party people, shopping queens, gourmets and anyone who just wants to have a nice time. There is much to discover in the City of Design.
DESIGN IN EVERY CORNER OF OUR HOTEL
Our hotel has been one of the hubs of Graz's creative scene since we redesigned it with the Berlin designer Werner Aisslinger in 2005, if not before. Apart from that, good design is near and dear to our hearts. If you book a room with us, you can expect good taste and a timeless aesthetic. In all 108 of our rooms in three different categories. The only question left to answer: Smart or Loggia? What's not up for question is that every room exudes coolness that's hard to beat. Super high-speed Wi-Fi is available throughout the hotel, and all rooms have a modern, open bathroom, sleek design and good views.
Or would you prefer the one-of-a-kind LoftCube?
If you'd like to take in grand views from the shower or your bed, you simply must experience the new rooftop LoftCube at Daniel Graz. A suite 24 metres up, 44 exquisitely furnished, decorated and equipped square metres of living space and a 360° panorama view of Graz. The Werner Aisslinger-designed cube, outfitted according to Florian Weitzer's ideas, is waiting for you with a few over-the-top features.
Smart luxury, smart price
Innovative travel means leaving the non-essentials behind. That is our maxim. Booking a room at Hotel Daniel means shedding everything that weighs you down so that you can simply enjoy your holiday or business trip. Of course we still have everything a modern traveller needs. Mindful minimalism, you might say. We call it smart luxury. And this luxury doesn't have to come at a high price. That's why we're delighted that Hotel Daniel is one of Graz's most unique hotels with cheap prices.
BREAKFAST LIKE A KING
We can confirm that it's not just a saying. They say we have the best breakfast in all of Graz. Soft-cooked eggs, Austrian ham, slices of Cheddar and spelt rolls cosy up together on our breakfast table. Hotel Daniel's breakfast is even popular with the locals – many of them are regulars. And every guest is royalty with us. But when you step out of your Daniel room, well rested from a good night's sleep, there's nothing better than a good breakfast.
BUSINESS IN GRAZ? OR A SEMINAR?
Or just a holiday? Great! On a business trip? You're also welcome here. Our prime location makes us popular with businessmen and women. We're ideal for longer business stays as well since we offer the perfect space for seminars and conferences. And of course the best service.
AND NOW FOR THE FUN
Now you can have a look around our website and get a good idea of what we're all about. The next thing to do is to pack your bag and make your way to Graz. Book a room at Hotel Daniel, check in at your own pace and head into the city.