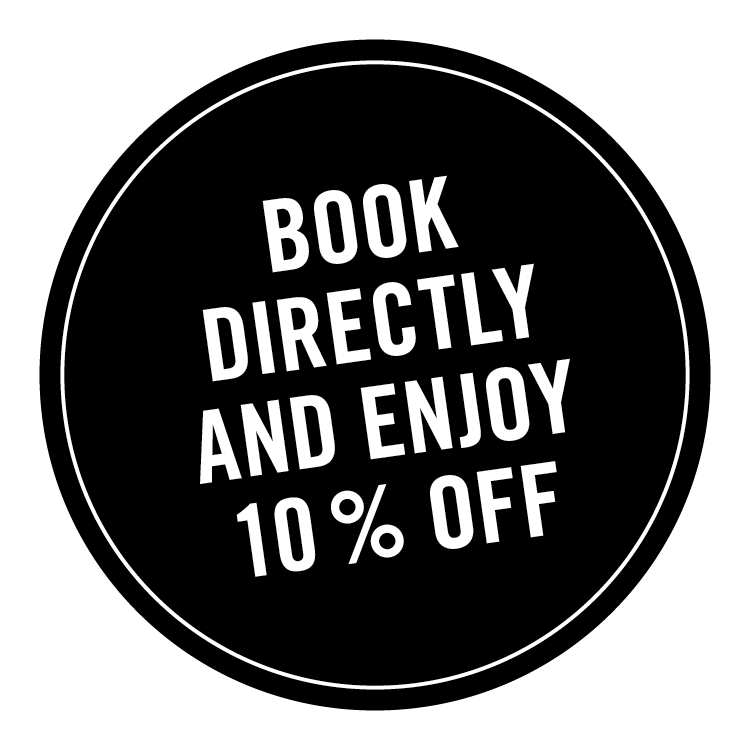 Next question, please.
Everything you ever wanted to know about the Daniel. Or didn't want to know. Either way, simply click on the question and you will get your answer. Any questions?
01.
Where can I park, how can I find a parking space and what does it cost?
At the hotel car park, where also 2 charging stations* are located for electric vehicles. Just turn right three times. Don't worry, we will explain it to you in more detail in person. But you definitely don't need a SatNav. It will cost you € 13. Reservation is needed.
*E-vehicles can be charged directly via the SMATRICS provider using their membership card or app.
02.
What is the best way for me to get into the city?
Take the tram from right outside the Daniel. Or rent one of our vehicles – you can choose between brandnew Electro-Vespas or bikes.
03.
How long does it take to walk into the city centre?
Within around 10 minutes you reach the city centre.
04.
Where can I get tickets for the tram and when does the last one run?
Tickets: Either on the tram or you purchase the Graz Card online, it already includes the entry to the locations of Graz Museum and the Universalmuseum Joanneum!
The last tram runs around midnight on weekdays.
05.
How do I get to the airport?
Either take the shuttle bus or a taxi from the railway station or the train to S-Bahn station Flughafen Graz-Feldkirchen.
06.
Is it possible to make a reservation without a credit card?
In principle, yes. However, we reserve the right to cancel bookings without a credit card guarantee from 6 p.m. onwards the day before arrival. To keep your room please contact our reservations department under +43 316 711 080 or send a mail to hellograz@hoteldaniel.com.
We generally require a credit card on busy days, such as New Year's Eve. Or you have the option of securing a room by paying in advance.
We only need your credit card to guarantee your reservation. Your card will not be charged when you book your room. You will only be billed once you check out, or if you cancel after the cancellation deadline or fail to arrive as scheduled.
07.
Until when can I cancel free of charge?
If you've booked our daily rate, you can cancel up to 6 pm on the day before you're due to arrive. But we recommend that you just check your booking confirmation, where you'll find the regulations for cancelling your booking in the rates description.
08.
Where is breakfast served?
In the loft (although it is worth noting that you will be able to smell it before you see it anyway…)
09.
What time does breakfast start at the Daniel?
At 6:30 am and on the weekend at 7 am. Yaaaaawn!
10.
How long is the reception staffed in the evening?
We are always here for you! Around the clock, 24 hours a day.
11.
Does the hotel have WiFi?
Yes of course. It is easy-peasy to use and even better, totally free of charge!
12.
Is there a sauna at the Daniel?
13.
Where can I do my laundry?
At the laundrette on Griesplatz. Yes, we also do have one in Graz!
14.
Are pets allowed - and what is the charge per day?
Yes, you are allowed to bring your pets to the Smart and Loggia rooms. In our LoftCube, no pets are allowed. There is a charge EUR 18 per day for your four-legged friend (not including food).
15.
Where can I enjoy good Styrian food?
At the "Der Steirer" restaurant – right next to the Hotel Weitzer. But be careful! It's also very popular with locals. So better make a reservation at +43 (0) 316 70 36 54 or at office@der-steirer.at
16.
Where can I find the best shops?
Good question. The possibilities are endless. There is the Kastner & Öhler department store, the City Park shopping centre, the Herrengasse or in the nice small shops in the Mariahilferstraße. You can pick up further details and tips 24 hours a day, 365 days a year at the Espresso bar and the reception.
17.
I've forgotten my toothbrush, it is 11:00 pm and I am totally exhausted. Help!
Relax: On the ground floor at the reception you will find everything that both men and women of the world need on a daily basis… also toothbrushes.
18.
Can I leave my suitcase even after I have checked out?
Sure, no problem. Just ask at the reception.
19.
At which time I can get in - and have to leave?
In the hotel itself, of course, whenever you want … From 2pm you can throw yourself into the wonderful Daniel sheets in the room – but on departure day you should be out until 12pm, otherwise you will be surprised –
from our houskeeping team. Should you need the room longer, no problem – we're flexible. Just ask our reception team on site. For those who want to sleep longer or just don't want to leave, we have our Late Check-out until 2 pm or 4 pm for € 20,- or € 30,-.  Or you could stay another night – just an idea.